The Best Double USB Mech in Australia!
Let us introduce Australia's most versatile double USB mech – the MUSB31R.
We know that's a big call to make, so let us explain to you our reasons for confidence in our double USB mech.
First and foremost, many double USB mechs in the market claim 'fast charge', they are only capable of fast charging if only one device is plugged in. Once you plug another device into the second port, say goodbye to fast charge and hello to breakfast, lunch and dinner whilst you wait for a full charge. You lead a busy life, do you have the time to wait?
Our double USB mech has fast charge capability via BOTH ports because they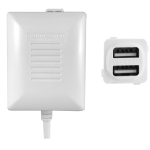 have a whopping total output of 6.2A! That's more than any other USB charger mechanism in the market at present.
Secondly, they're compact and versatile. Other double USB mechs that are incorporated into a power point restrict your choice of brand and style. For example, you may have a slimline range of power points and light switches installed in your home. Good luck trying to find a USB charging power point to match. Other USB mechs are extremely chunky in order to produce a higher output to decrease charge time so you can't fit multiple mechanisms into a wall plate.
Our MUSB31R double USB mech is interchangeable with all of our wall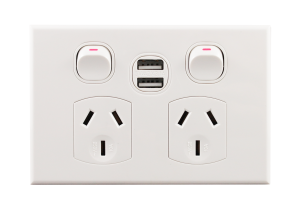 plates and socket outlets – BASIX S, slimline and stainless steel so choosing a configuration to suit your needs is simple. You can have a power point with two extra switches which means 4 USB ports. Or choose a 6 gang wall plate with a total of 12 USB ports. That allows you to charge up to 12 devices! (if you even have that many 😉 )
Another common issue many sparkies face is when they have an installation in cavity brick, masonry or concrete wall panels where space is inadequate to house the transformer. Because of this, we have designed our double USB mech with a 300mm lead, remote transformer and the option of plug and play 2.4M extension leads (MUSB31LL) so that you are able to house the transformer up to 2.4M away from the USB port and plate, in a more convenient location.
We don't discriminate here at Connected Switchgear, so whether you're an Apple advocate or Android lover, our Dual USB mechanism charges all devices including smart phones and tablets.
Check out the features and technical parameters below:
Features
Fast charge capability
Dual USB output – Not device specific
Recharges all electronic devices including smart phones and tablets
Interchangeable across all CSG plates
Optional 2.4M extension leads
Technical Parameters
Output: 5V 6.2A
Input Voltage: 220-240V AC
Input Frequency: 50/60Hz
Output Voltage: 5V DC