Black Inline Wiring Solutions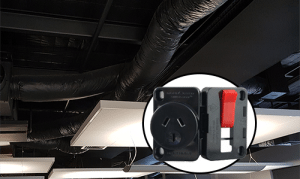 Looking for an inline wiring solution for exposed black commercial ceilings?
Connected Switchgear's black quick fit plug base is the sure solution for applications that require an inline socket that will blend in with it's surroundings.
Our quick fit is the world's first tooless plug base. It terminates in 4 seconds without the need to strip insulation or use any tools and is 22 times faster to wire than any other plug base on the market today. Even faster when used with an Advance Cables TPS cable in 3 core 1.5mm or 2.5mm with a red tracer mark on the active conductor.
Check out CSG's black SMS1BQF